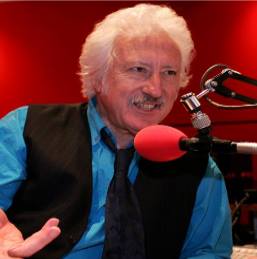 Bill Heine
Disc Jockey, Broadcaster
Bill Heine was for many years a stalwart of BBC Radio Oxford where his controversial style and his incisive wit were his hallmark. He has also been a columnist fot he "Oxford Mail" – and when he was diagnosed with cancer, he recorded his progress and set backs in weekly columns
Born in the US, Heine has lived in Oxford since studying for a postgraduate degree at Balliol College in the late 1960s. In the 1970s and 1980s, he ran both the Penultimate Picture Palace cinema in East Oxford and the Moulin Rouge Cinema (which he later renamed Not The Moulin Rouge) in Headington.[3] 
He employed the sculptor John Buckley to design a giant pair of hands to adorn the former, and a giant pair of legs for the latter.
Heine employed Buckley again in 1986 to design a 25 ft fibreglass sculpture of a shark that appears to be crashing through the roof of his own house in the Headington area of Oxford, creating a somewhat controversial local landmark.
In 2017 Bill was diagnosed with leukaemia and he recorded his progress and set backs with the disease in his own totally individual style.
SHARE YOUR EMAIL ADDRESS AND STAY UPDATED WITH LATEST RELEASES AND NEWS