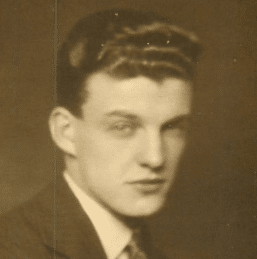 Arthur Worrell
Soldier
Arthur Worrell was born in 1904, attended grammar school, was apprenticed as a printer and eventually became a Reader, proofing books and magazines including highly specialised scientific journals. At the outbreak of war in 1939 the company's staff were made redundant and, five months later, with five children to feed, he joined up at the mature age of 35 – to be called "Pops" by the mostly much younger men.
He was shipped out to France in April 1940 just before the collapse of France and, never having fired a gun in anger (and he didn't actually even have a gun), was almost immediately captured by the Germans in the confusion during the total collapse of the British Expeditionary Force prior to Dunkirk, and spent the rest of the war as a PoW, held in grim conditions in Poland. From December 1944 until liberation in April 1945 in Austria, he was forced march with other prisoners of war as the German guards tried to escape the advancing Russians. That little known death march, through one of the coldest winters of the war, is recounted in graphic detail. Arthur Worrell's war is a sobering insight into what life was like for an ordinary soldier.
Once back in England he returned to his old job as a Reader in the printing industry, learned to drive in his fifties, had his sixth child and, after the death of his wife, went into a nursing home where he was one of the very few male residents.
He never told anyone about his war-time experiences until in 1984, Paul Davies, over five days, recorded his memories.
SHARE YOUR EMAIL ADDRESS AND STAY UPDATED WITH LATEST RELEASES AND NEWS