I'm very proud and excited to be the new owner of Bite-Sized books, to be working with founder Dr Paul Davies to look after our 200 authors, and to take the business to the next stage of its history.
My friends, and all those that know me, will be a little surprised I've taken this step. After the trade sale of E*TRADE UK way back in 2000 I admit to settling into the relatively comfortable life of an angel investor and professional chairman/NED.
But there's nothing like actually running a business! The stress, the worry, the long hours, the financial risk, the HR tantrums, the challenging customers, the systems wobblies. But if you can manage all that, there is enormous satisfaction to be had making something happen to the benefit of others; your customers, the team, and everyone your enterprise touches. And that's not even including the life-long friendships you make.
If you've a little time, I'd like to share how I came to be involved in Bite-Sized Books – a lesson, perhaps, in the importance of keeping in touch with the people you value throughout your life.
We all worked in the telly business
Many years ago I created a business TV channel idea that I pitched to British Satellite Broadcasting (BSB). They loved it, and, as they had unused studio and satellite transponder time in the mornings, it was perfect fit for our programmes. You may remember the famous 'Squarials' – the satellite dishes that popped up around Britain around 1990. And if you've been a media watcher, you'll equally remember the so-called 'merger' between Sky and BSB creating BSkyB (now known as Sky).
I pulled together an amazing team; Clive Couldwell as Editor, Geoffrey Davies as Producer, and Stuart Baxter as COO/Operations Director.
Our first programme went live in November 1990 from the Birmingham NEC fronted by the late Richard Kershaw and with studio director, BBC producer John Mair.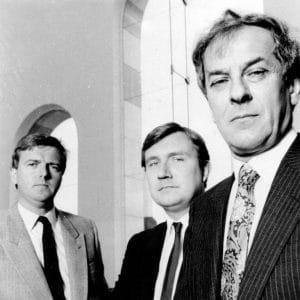 All was going rather well with the channel until that Sky/BSB merger and Rupert Murdoch's Sam Chisholm sacked us all.
I stayed in touch with all the team and Geoffrey kept contact with John Mair.
Fast forward to January 2021 and Geoffrey approaches me to say that he's heard from John Mair that the founder of Bite-Sized Books, Dr Paul Davies, was looking for a new owner. John is a prolific author and had already published 18 books with Paul through Bite-Sized Books.
Less that 3 weeks later the deal was done. And, as you'll see from the press release, we've just issued, Paul has kindly stayed on as Chairman and I'm now CEO.
The history of Bite-Sized Books
Paul incorporated Bite-Sized Books Limited back in 2014. His mission was to create books that were actually read – the 'antidote to unread books' was the copy line. He wanted to lessen that stack of books on our bedside tables that never seem to get finished.
His intention was that by creating shorter 10-12,000-word (100 page) books, they could be read in a single session. They weren't abridged versions of larger books, rather they were clear and concise extended essays that were focussed on essential facts or thoughts.
The bite-sized genre is now universal, and whilst Paul would be the first to say he didn't create the idea, the adoption by the BBC of the format has boosted its acceptance and it now sits comfortably alongside larger formats.
Paul's endeavours have been remarkably successful. Over 200 authors and contributors have now published with Bite-Sized Books and the roster is very impressive. They include politicians such as Vince Cable, Sir John Redwood, Lord Heseltine, and Ed Vaisey, and high-profile media leaders, broadcasters and journalists such as Mark Thompson, Clive Myrie, John Mair, David Elstein and Jon Snow. Academics and economists are also in the mix with Vicki Pryce, Patrick Minford, Dr David Bailey, Victor Hill, Alex de Ruyter and Professor Graham Gudgin.
Where do we go from here?
I've already met some amazing people and we've launched five books since my arrival – three with John Mair; The Pandemic: A Year of Mistakes, What's the Point of Ofcom? And just now in July, BBC at 100 – Will it Survive? Then there's Mihir Bose's Narendra Modi – The Yogi of Populism, and our Book-of-the-month, Exploring the Green Economy edited by Beverley Nielsen and Dr Steven McCabe.
Our overall task is to increase the number of books we publish each month and increase book sales across our whole catalogue.
Now that our new brand and change of ownership is in the public domain, we'll be stepping up our approaches to potential authors.
And in parallel we'll be reinvigorating our marketing – especially our social media presence. We plan to engage with our book-reading community far more and we'll be introducing a series of outbound communications that will, we're sure, catalyse debate. We've already started a Bite-Sized Books YouTube channel that you can access on our header.
And lastly, before this year end (2021), we'll take advantage of a return to the 'new normal' by introducing live ticketed events involving our authors and a whole set of new faces lined up to conduct on-stage interviews on our behalf.
How can you get involved?
More than anything we'd love you to 'spread the word'. Please follow us on all our social media. And share items as much as you can.
Also we'll appreciate you subscribing by entering your email address (below) to allow us to stay in contact – sending you book news and sharing general items of interest as we come across them.
If you know of anyone with a story to tell or know-how to share, then please tell them about us. We can't promise to publish their books but they can be sure of a friendly and professional welcome and expert guidance towards becoming an author.
Until the next time, thanks for reading, and I look forward to us staying in touch.
Julian Costley – Bite-Sized Books – July 2021