COP27 is upon us, and if you didn't make it to Sharm El-Sheikh, you can still 'do your bit' by reading four important books we've published relating to climate change. They're refreshingly positive and packed with suggested practical steps. And, don't forget, our books cost less than a cappuccino in Harry's bar in Venice.   And, as we always like to add, the beauty and practicality of a Bite-Sized Book is two-fold: they're shorter, so can easily be read in one sitting. And secondly, once read, they are splendid at fixing that wobbly table leg.   So sit back and enjoy, as we run through a selection of our published and soon-to-be-published books. 
Exploring the Green Economy: Issues, Challenges and Benefits – Beverley Nielsen and Steven McCabe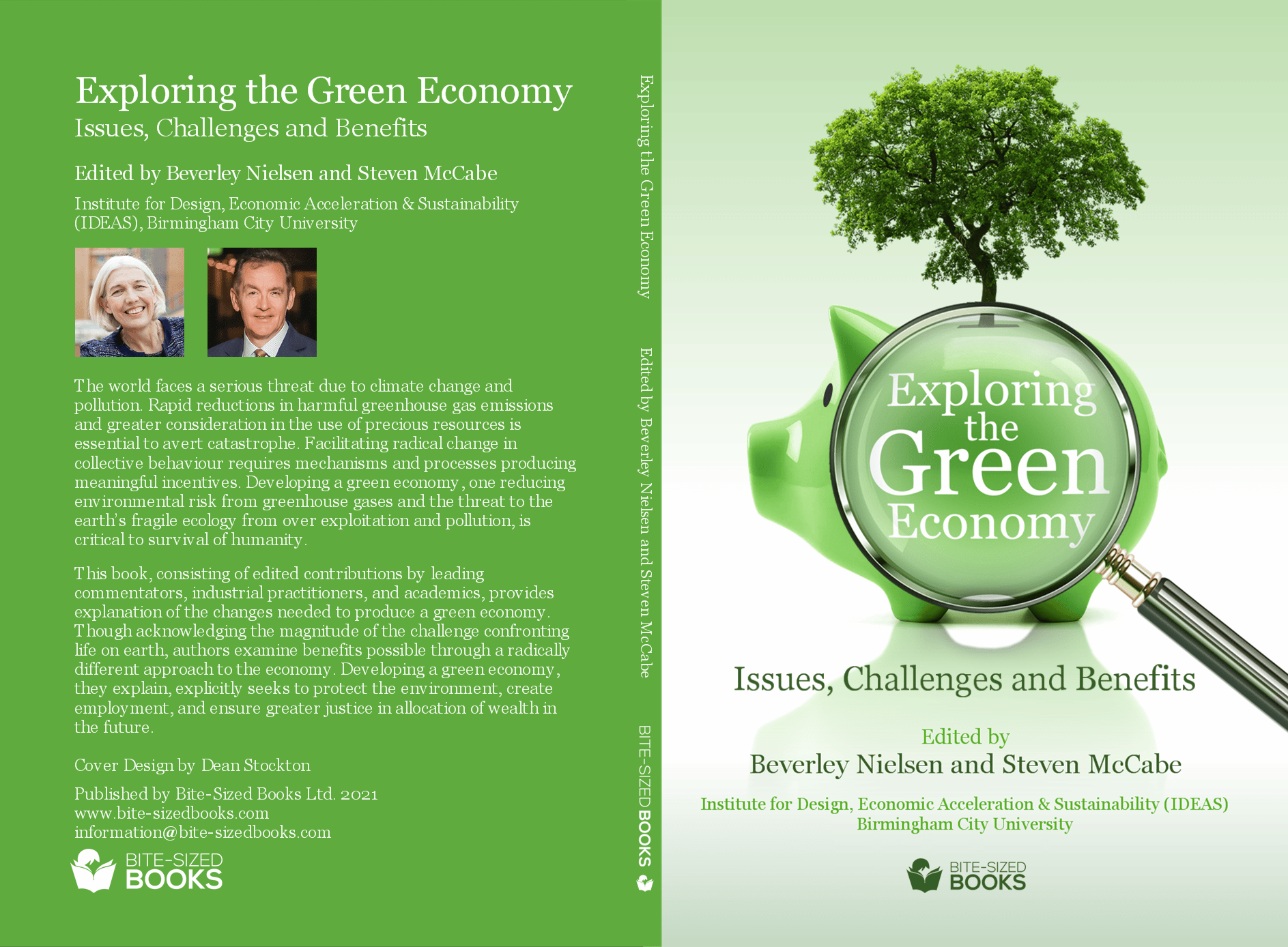 How can we meet environmental targets, crucial to delivering Net Zero and fulfilling our commitments to the Paris Agreement, and in the context of the fact that we are holding the COP27 Climate Conference, we must now focus on action and on increasing the pace of our response.
The book is divided into two parts. The first, 'What are the Fundamentals of a Greener Economy?', is intended to consider how change leading to a green economy may be facilitated. Part Two of this book, 'Principles in Action' presents a number of chapters written by business people who have engaged in achieving green initiatives in their organisations.https://tinyurl.com/4uv8767y
Buy on Amazon:  
Green Manufacturing – What This Involves and How to Achieve Success – Steve McCabe and Beverley Nielsen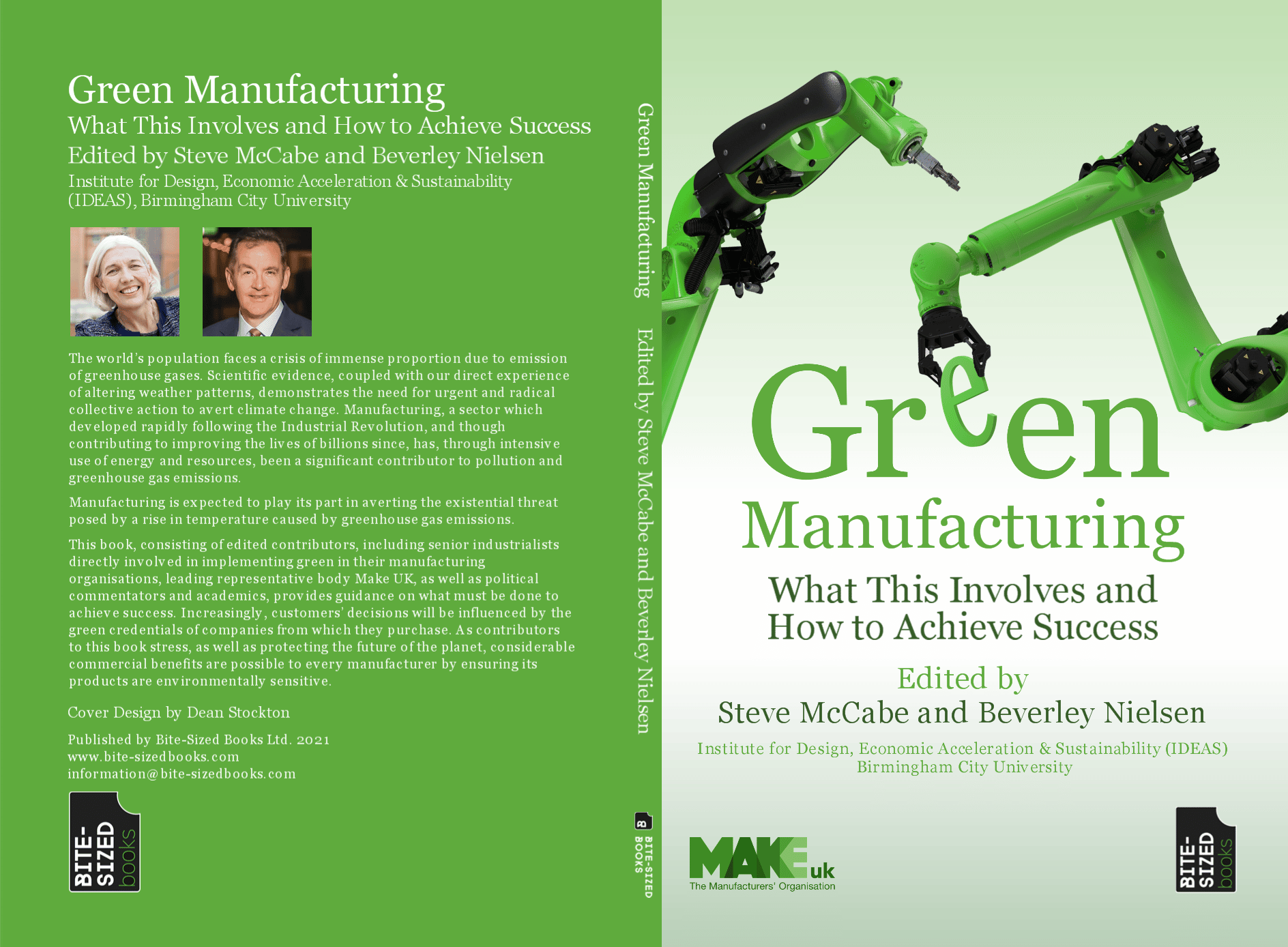 The world's population faces a crisis of immense proportion due to emission of greenhouse gases. Scientific evidence, coupled with our direct experience of altering weather patterns, demonstrates the need for urgent and radical collective action to avert climate change. Manufacturing, a sector which developed rapidly following the Industrial Revolution, and though contributing to improving the lives of billions since, has, through intensive use of energy and resources, been a significant contributor to pollution and greenhouse gas emissions. https://tinyurl.com/34yapb62
  Manufacturing is expected to play its part in averting the existential threat posed by a rise in temperature caused by greenhouse gas emissions.   This book, consisting of edited contributors, including senior industrialists directly involved in implementing green in their manufacturing organisations, leading representative body Make UK, as well as political commentators and academics, provides guidance on what must be done to achieve success. Increasingly, customers' decisions will be influenced by the green credentials of companies from which they purchase. As contributors to this book stress, as well as protecting the future of the planet, considerable commercial benefits are possible to every manufacturer by ensuring its products are environmentally sensitive.   Buy on Amazon here:  
Electrifying the Titanic – Patrick Ophuls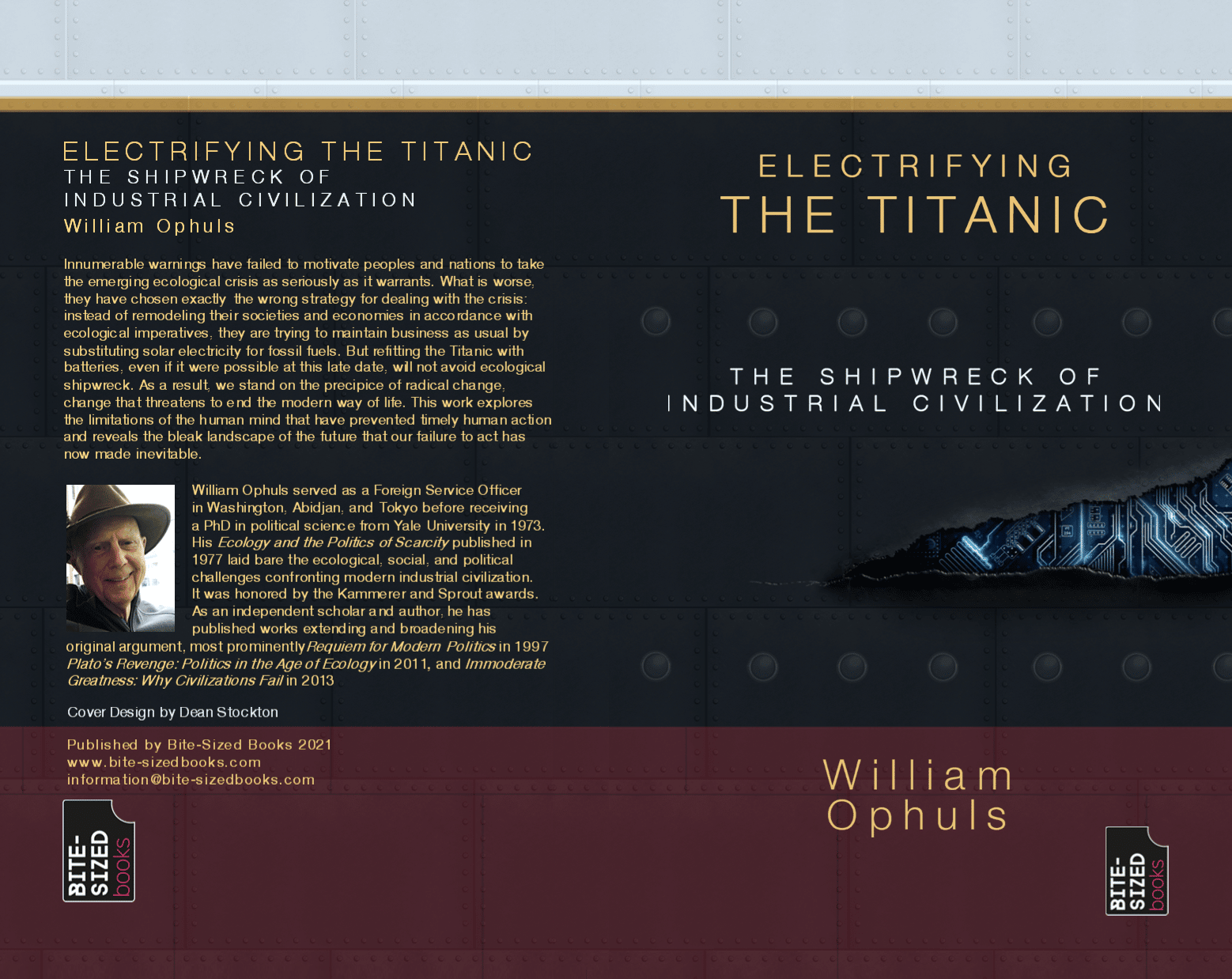 Patrick's fascinating book reflects upon the fact that, in Patrick's own words, "we stand on the precipice of radical change, change that threatens to end both the modern way of life and the long period of relative peace since the end of World War II."https://tinyurl.com/3btzk86n 
  Ophuls writes, "Innumerable warnings, growing increasingly dire as the years have rolled by, have failed to motivate peoples and nations to take the emerging ecological crisis as seriously as it warrants. What is worse, they have chosen exactly the wrong strategy for dealing with the crisis: instead of remodelling their societies and economies in accordance with ecological imperatives, they are trying to maintain business as usual by substituting solar electricity for fossil fuels. But refitting the Titanic with batteries, even if it were possible at this late date, will not avoid ecological shipwreck."   Buy the book on Amazon here:  
Build Back Green – The Electrifying Shock of the Green Revolution – John Redwood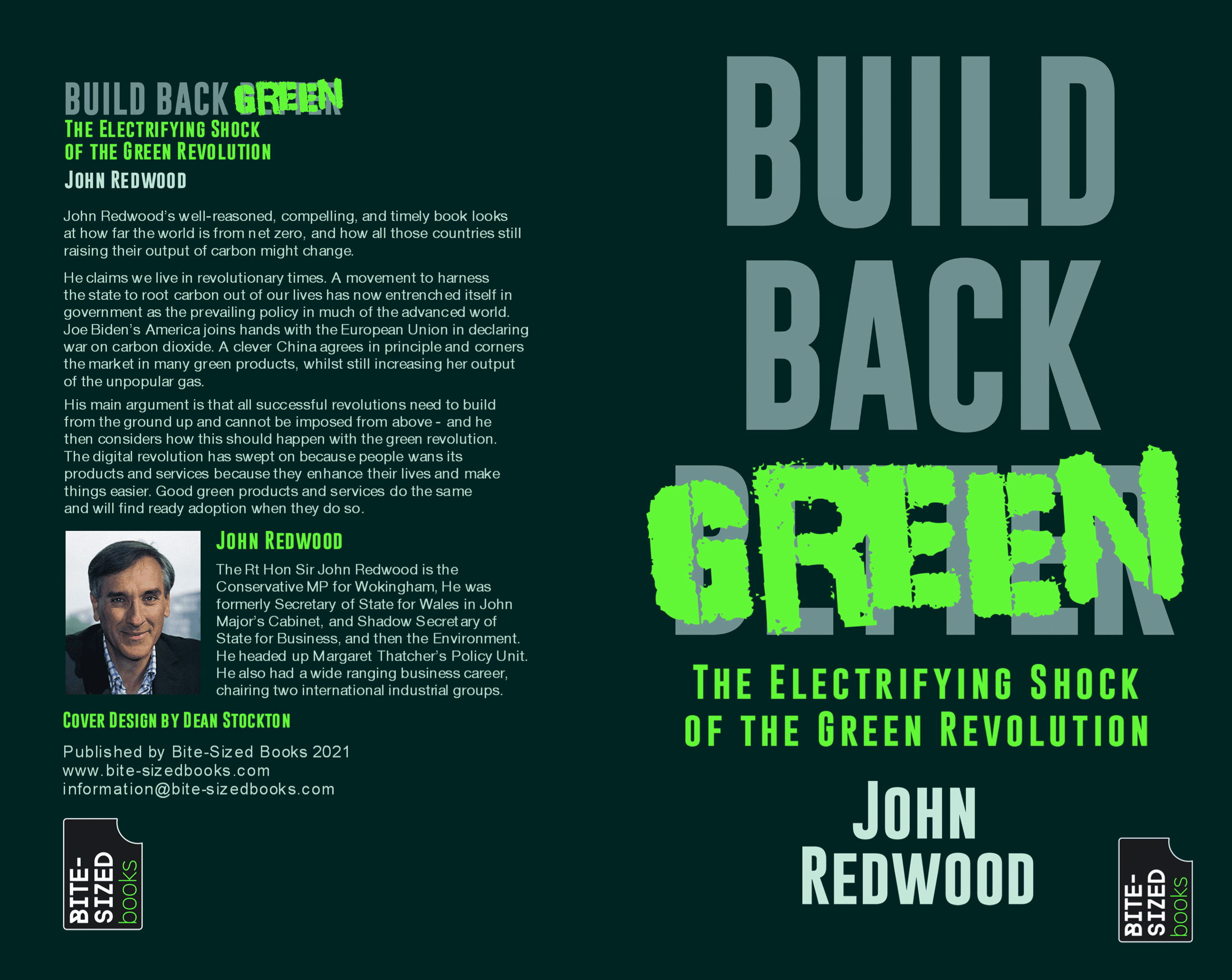 John Redwood's well-reasoned, compelling, perhaps surprising and timely book reminds us there are consequences to the upcoming green revolution. https://tinyurl.com/3wrwxkwa
  John claims we live in revolutionary times. A movement to harness the state to root carbon out of our lives has now entrenched itself in government as the prevailing policy. Joe Biden's America joins hands with the European Union in declaring war on carbon dioxide. A clever China agrees in principle and corners the market in many green products, whilst still increasing her output of the unpopular gas.   The protagonists strike an optimistic tone. They assure us the revolution will be carried through with a wide range of new green jobs. They hold out the promise of skilled people running windmill and battery factories, joyously powering the revolution of their dreams. They comment little on the other side, as they effectively sign the redundancy notices of all those in the oil and gas business, in drilling technology, in internal combustion engines, conventional ships, planes and vehicles, gas heating and much else. They have in mind a huge transition from the fossil fuel economy to the green electricity economy. They want us all to dump our diesel and petrol cars, replace our gas boilers, change our diet away from meat, give up foreign holidays and take to our bicycles.   How to navigate through this change is the burden of the book – and it brings a refreshing pragmatism to the subject.   Buy on Amazon here:  
We know you'll be wondering what we've been up to since the last newsletter. So here's a taste…
India at 75, Thoughts and Reflections – Edited by Makhan Singh, Steven McCabe and Beverley Nielsen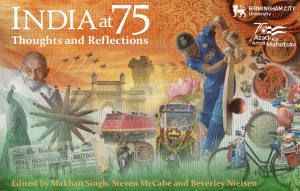 We're pleased to share that we have been commissioned by Birmingham City University to publish a hardback book commemorating the birth of the modern state of India 75 years ago this year. The book comprises contributions from over 40 India experts covering key aspects of India's politics, culture and society, and economy. th August 1947, the modern state of India was born amid celebrations, bloodshed, dire warnings about the impossibility of independence succeeding, and a total confidence amongst the less than 300 million Indians that the future was theirs and they would build a country that would reflect over 5,000 years of history and grasp all that modern life could bring for the 1.3 billion Indians now alive. Some 75 years later, it is entirely fitting that this book, edited by Makhan Singh, Steven McCabe and Beverley Nielsen, brings together distinguished academics, journalists, industrialists and politicians to celebrate the emergence of India as the fourth largest economy in the world and its economic, social and political maturity. This important book fittingly recognises the giant strides that India has made both domestically and internationally – and looks forward to the next phases of development and achievement. Although the large format edition is for internal University use and so not for sale, we are publishing a smaller paperback version which will also be available on general sale on Amazon in the New Year.
  The senior BCU academics who edited the book, Makhan Singh, Steven McCabe and Beverley Nielsen, describe in more detail: On 15
The Return to Reason series – Edited by David Erdos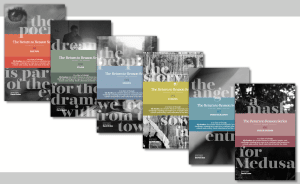 Here's a sneak preview of 6 books we'll be publishing soon in a series entitled The Return to Reason.
  This has been a mammoth task ably driven by the series Editor, David Erdos. David, an accomplished writer, poet, actor/director, says of the series:   "The Return to Reason project comprises six books intended as a continuing series of selections, anthologies and single authored works aimed at defining what alternatives for a changing culture and society could be. These first six titles include contributions from a range of established writers and artists, alongside a handful of emergent practitioners, across each of the creative forms. They are an attempt to redefine what we want from art in general and reading in particular. At a time when it is impossible to sit on a bus or train – or in some cases, even a car – without seeing everyone immersed or captivated by a phone, our intention is to re-introduce the kind of exploration that only a special book can provide." Available in early 2023
Poet's Corner… how familiar are you with Indian poetry?
On the continuing theme of poetry, we've been working with our India partner, Copper Coin Publishing, to bring a number of their books to a wider international audience.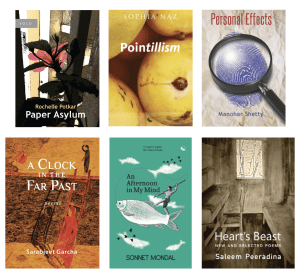 So far, none of CCP's extensive English language catalogue is available outside India. We've chosen a small selection you see above which we plan to bring to you early in the New Year.  Here's what Sarabjeet Garcha, CCP's founder and publisher, has to say:    Copper Coin is dedicated to publishing outstanding poetry, nonfiction and fiction in English, Punjabi, Marathi and Hindi. Our faith in the power and beauty of the book drives us. We deal in a currency whose value transcends time and geographies: poetry—and everything related to it, be it nonfiction, fiction or any kind of writing that defies categorisation.See more: https://www.coppercoin.co.in
Significant Works – Sue Hubbard, in association with Artlyst.com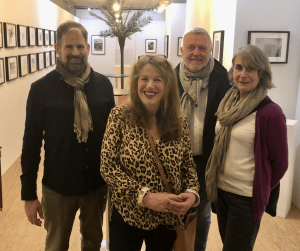 From left: Paul Carter Robinson, Sue Hubbard, Julian Costley, Sara Robinson
Over the last two years Sue Hubbard, author and art critic, has written a monthly article for Paul Carter Robinson's online art magazine, Artlyst.More about Artlyst here: https://artlyst.com/
The articles highlight a single piece of art that Sue has selected to write about. Bite-Sized Books is soon publishing those articles in book form. The artists range from the well-known such Anish Kapoor ('Svayambh') and Sean Scully ('Paul') to the truly eclectic images from Yinka Shonibare ('Mr & Mrs Andrews Without Their Heads') and Richard Long (sculpture: 'A Line Made For Walking').  
50 States of Mind: A Journey to Rediscover American Democracy – Ryan Bernsten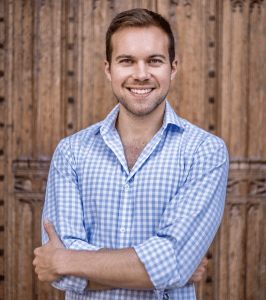 In a time of divisive politics, American Oxford graduate student Ryan Bernsten took a 23,000-mile journey to all 50 US states to talk to people on the ground. 
50 States of Mind: A Journey to Rediscover American Democracy is a work of narrative travel non-fiction that takes readers on a long and winding journey through all 50 states to explore the complexities of modern America. 
The companion podcast 50 States of Mind, featured in Condé Nast Traveler, showcases live interviews from the journey and is available on all podcast platforms. 50 States of Mind aims to infuse humanity and nuance back into conversations about politics to help us overcome our preconceived notions.
Ryan's book will be published by us early in the new year.  
Genocide, Fear, Greed, Propaganda & Murder – Heidi Kingstone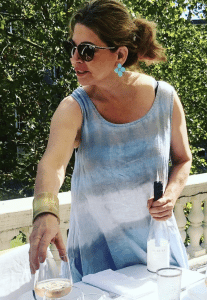 We're very proud to have secured the publishing rights to Heidi Kingstone's latest book, Genocide, Fear, Greed, Propaganda & Murder.
Perhaps not a book to pop into your nephew or niece's Christmas stocking, but, given the subject matter, a surprisingly enjoyable read. 
Heidi's book is a masterful work that is both authoritative and accessible and continues an uncomfortable dialogue we need to have because the threat is ever-present. 
A working journalist who spent eighteen months in Afghanistan and covered Iraq, Heidi knows how to make challenging subjects compelling to read. The result? The book offers a broad perspective, a sweep of twentieth and twenty-first-century genocides, not a simple historical chronicle, but a look at the victims, the perpetrators and bystanders. 
It analyses the perpetrator's motives, financial gains, and malevolent quest for ethnic and racial purity, while also noting the world's lack of political will, the need for global justice, and the continued dangers that lurk. While all genocides are unique, there are also striking similarities: whether it's the Holocaust, the Rwandan genocide or ISIS's Yezidi victims. 
The book brings us up to date with the Russian war crimes and atrocities in Ukraine and China's persecution of the Uyghurs.
Heidi Kingstone is a foreign correspondent with wide experience covering human rights issues, conflict and politics. She's written for some of the UK's leading publications, including The Financial Times, The Times, The Sunday Times, The Spectator, The Guardian and The Mail on Sunday.
Genocide, Fear, Greed, Propaganda & Murder published by Bite-Sized Books will be available on Amazon in the New Year.
Morse, Lewis, Endeavour and Oxford – A Guide Celebrating 35 Years on Screen – Edited by John Mair with Richard Lance Keeble and Heidi Rickard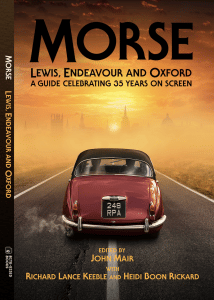 If you, or a favourite relative, loves the TV series MORSE, then why not buy our insider's guide in Morse, Lewis, Endeavour and Oxford: A Guide Celebrating 35 Years on Screen.  It continues to be one of our best sellers at the moment. It's well written and edited by former BBC producer John Mair supported by Heidi Rickard, Oxford's top MORSE guide, and Richard Lance Keeble.  Packed with 'I-never-knew-that' tidbits, you'll want it with you when you next visit Oxford.    Available on Amazon here:  //tinyurl.com/5xzhs3ea
The Wadhurst Way – Pearls of Biz-dom from the Mouth of St Albans' Insight-tastic Executive Coach – Geoffrey Wadhurst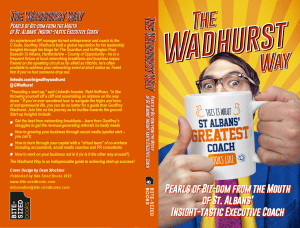 This cheeky little number is our first foray into the world of comedy books. We can't say who wrote it as that would spoil the game.Available on Amazon here:  https://tinyurl.com/ytebvuvy
Suffice to say that Geoffrey Wadhurst is the author's fictitious creation; a hapless Walter Mitty in the mould of Alan Partridge. If you're old enough to remember 'Beachcomber' or you're a fan of Brian O'Nolan then you'll get the tone of the humour. Before the book was written Geoffrey Wadhurst was a long running 'blogger' with the Guardian and on Huffington Post. So he has an enthusiastic fan base already and this book will surely elevate him to even giddier heights of stardom.   
The Radical New Theory of Gravity – Disrupting our Understanding of Our Place in the Cosmos – Jan Loeber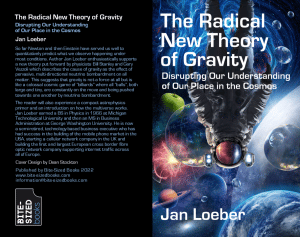 Despite Author Jan Loeber is a very credible physicist and business executive who rose to very senior levels in one of the world's top mobile companies.  Available on Amazon here: https://tinyurl.com/pzpaes2f
  Here he's helpfully explaining the work completed by physicists Bill Stanley and Gary Vezzoli which describes the cause of gravity as the effect of pervasive, multi-directional neutrino bombardment on all matter. This suggests that gravity is not a force at all but is like a colossal cosmic game of "billiards" where all "balls", both large and tiny, are constantly on the move and being pushed towards one another by neutrino bombardment.  
CHINA'S UKRAINE DILEMMA – The Shaping of a New World Order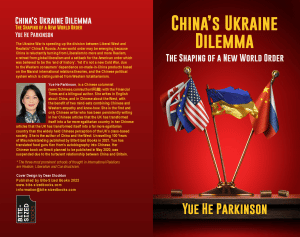 Yue Parkinson's second book published by Bite-Sized Books is as intelligent and well-informed as it is topical. Yue is the Financial Times China columnist based in the UK.Buy the book here: https://tinyurl.com/ut356v9c
Yue combines a deep understanding of the culture and politics of China and the of the 'West' having lived within both political systems. Her viewpoint is admirably neutral and based upon factual information rather than any third-party moral or populist influences.  
Hawk and Hyena: What Really Happened to the Serpent – Farrukh Dhondy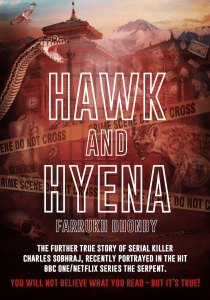 Author Farrukh Dhondy's Hawk and Hyena: What Really Happened to the Serpent, is a blockbuster that carries forward the story of serial killer Charles Sobhraj, the subject of the 2021 Netflix/BBC 8-part mini-series.    Available on Amazon here:  https://tinyurl.com/3bpzjfc8
The Power of Organisation – Enabling managers to coordinate actions that produce extraordinary innovation and results for the Intelligence Era and beyond – McMaster & Brown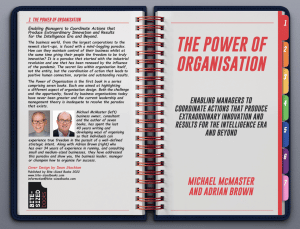 Mike McMaster and Adrian Brown may be too humble to agree, but in terms of management gurus, they're up there with Bain & Co, McKinseys, BCG and the like.Available on Amazon here:  https://tinyurl.com/45h38kx4 Learn more about the McMaster & Brown organisation here: https://www.mcmasterbrown.com
  This first book – The Power of Organisation – Enabling managers to coordinate actions that produce extraordinary innovation and results for the Intelligence Era and beyond – is part of a 7-book series.  Essential reading for anyone running a company.  
Ten Oxford Authors, Ten Literary Walks – Edited by John Mair, Richard Lance Keeble, Peter Tickler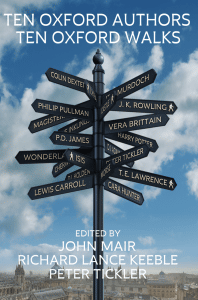 Ten Oxford Authors, Ten Literary Walks explores the Oxford – real and imagined – of ten (in reality eleven) Oxford authors and their characters. They range from Inspector Morse to Harry Potter and Alice in Wonderland; from Philip Pullman to P. D. James, Lawrence of Arabia (and Oxford) and Cara Hunter's best-selling D. I. Fawley. Visit places in the City of Dreaming Spires of significance to them. Follow in their footsteps. All were born, lived or imagined in Oxford. For some, like Morse, 'gown' was pre-dominant; for others, like Pullman's Lyra and Hunter's Fawley, 'town' was more important. Immerse yourself in their worlds.  Buy the book here: https://tinyurl.com/kykju9wy
Eden is Burning – What Next for the NHS? – Peter McLardy Smith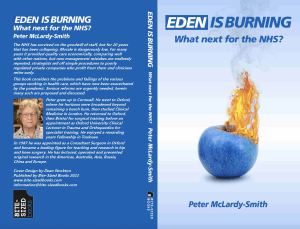 Peter, a former NHS surgeon, says the NHS has become a very unpleasant employer.Buy on Amazon here:  https://tinyurl.com/5328znmm
  Since its foundation it has survived on goodwill and commitment from the front-line staff, but for the last 30 years that has been progressively eroded. Salaries for clinical staff have crashed in real terms, the pastoral care of the working environment has been blown away and morale is at rock bottom.   Despite this, pre-pandemic, the NHS was providing quality care at low cost, comparing well with other nations of similar social and economic background. We have fewer doctors than Romania, about the same as Poland. This is repeated with nurses and therapists.   Management of a health care delivery system is difficult, but in the NHS the same mistakes are endlessly repeated. The response of many doctors is to take early retirement, while nurses and therapists seek work in the private sector, which is an even more depressing environment, contrasting poorly with the NHS at its best.   The problems of the NHS are reviewed by considering the various groups who work for, or interact with, it. Many activities emerge which are stupid, counter-productive, venal, even dangerous. These problems pre-existed the pandemic but have been massively exacerbated by it. Serious reforms were needed, now they are urgent.   This book is about those reforms and how they might work. Politicians cannot see beyond pouring money into the black hole, but that will achieve nothing without structural change.  Eden, the NHS, a vital part of our culture, will burn.  
Bite-Sized Books author Farrokh article in the influential EASTERN EYE publication.
They write, 'In his debut novel The People We Know, London-based author Farrokh Suntook has told a compelling story of a Sikh woman who finds her life transformed after a shocking discovery about her Parsi husband and a chance encounter with an English couple'.    Building on the author's love for literature, the story, set in India and London, deals with a unique subject and culminates in a totally unexpected denouement. When asked to select his top 10 books, the talented writer said: "It's difficult to choose just 10 books because my selection could change with time. But here are some that immediately come to mind."   Read the published article in full here: https://tinyurl.com/4xwu7hjpBuy the book on Amazon here:  https://tinyurl.com/47ahazf9