What better way to fill that 8-week gap between La Rentrée in September and late October when Christmas begins than to think about work. 

And that means a new suit, a new backpack, and a bevy of cracking business reads from your favourite publisher, Bite-Sized Books.

So what can we tempt you with?
BUSINESS BOOKS
THE BUSINESS OF CLIMATE CHANGE
THE BUSINESS OF RUNNING THE NHS
…THE SERIOUS BUSINESS OF HUMOUR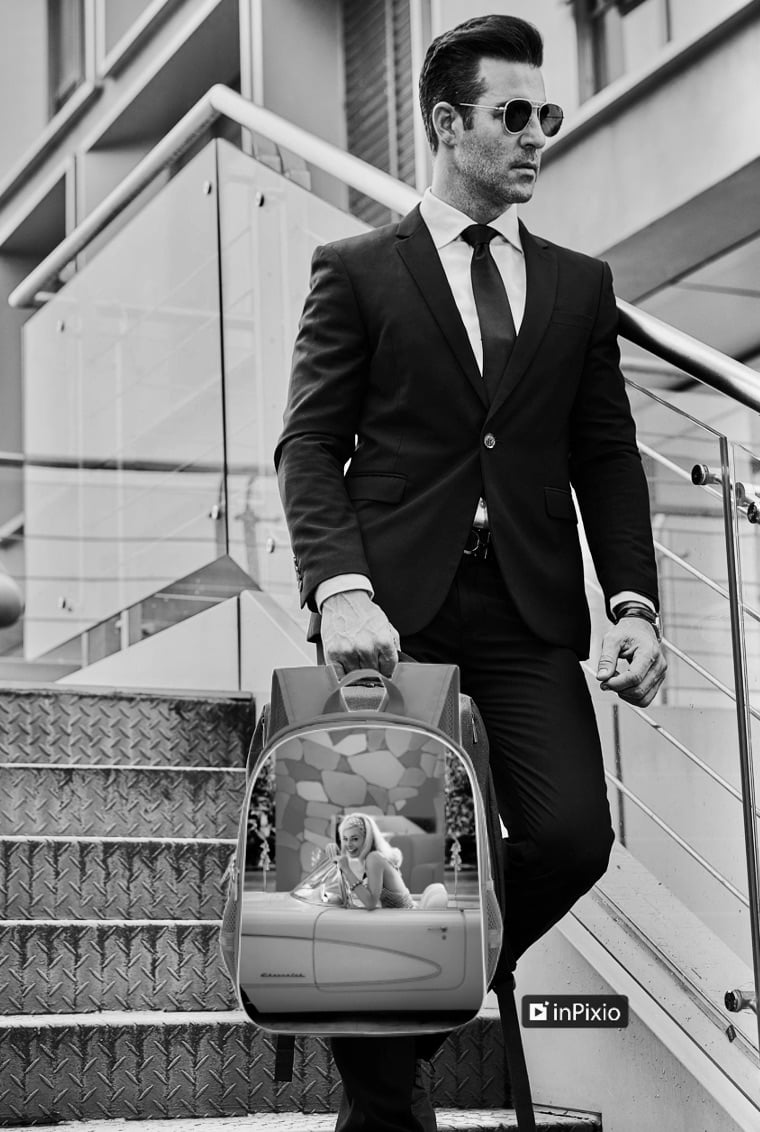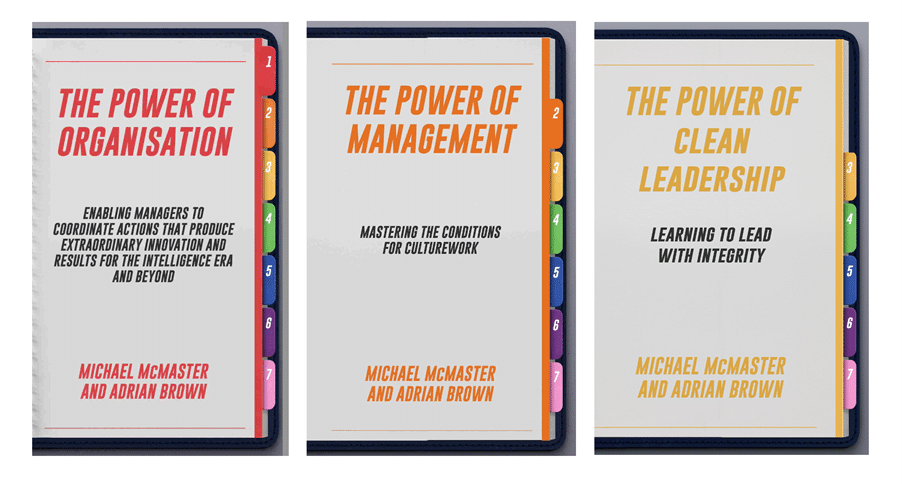 We've just published the third in our 'Stories from the Edge' series:  The Power of Clean Leadership – Learning to Lead with Integrity.
Yes! Another leadership book! And for good reason too!
As the publshers we can assure you this is different.
Management consultants Mike McMaster and Adrian Brown are midway in creating a series of books for us that together foster genuinely new thinking in how to run any organisation.
The Power of Clean Leadership is the third book in the series, following from 1. The Power of Organisation, and 2. The Power of Management. 
They invite you to experience a leadership revolution with 'Clean Leadership', an innovative concept that challenges traditional practices and places integrity, authentic communication, and fresh thinking at the forefront.
They're not pretending to obviate all day to day challenges. But they do introduce fresh thinking, easily implemented, that will better unlock the potential of your people and steer them in a more positve direction.
Anyway…give it a go! Have a look at the series here: https://tinyurl.com/3u86px5m
COACHING TO IMPROVE ORGANISATONS AND PROFFESSIONALS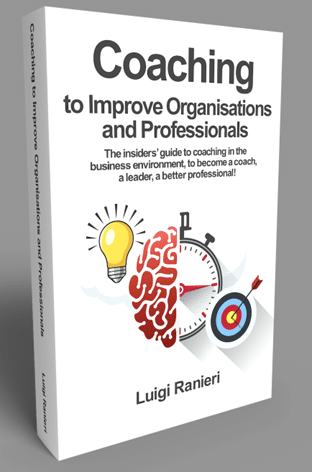 If only our organisations could motivate their employees as when they are dealing with their deepest passions, what would we observe differently in the workplace? And what would each of us observe about our careers if we could truly ignite the spark of motivation while working?
Our author, Luigi Ranieri (www.luigiranieri.com) is a coach and counselor, trainer and author of several books on personal growth. He knows that it is possible to approach a fuller professional realisation thanks to coaching!
This book is therefore dedicated to anyone who wants to grow and grow in the workplace: professionals who want to develop their own soft skills, managers who want to enrich their leadership style through a coaching approach, coaches who to offer their coaching services in client organisations. Furthermore, through continuous references to other HR processes, HR managers and entrepreneurs will also be able to find ideas for overcoming future business challenges thanks to a motivated team.
From theories to practical models to follow, from original tools to a wide range of application techniques, in this book you'll discover how coaching can accelerate professional development.
BUY ON AMAZON: https://tinyurl.com/4vehaubs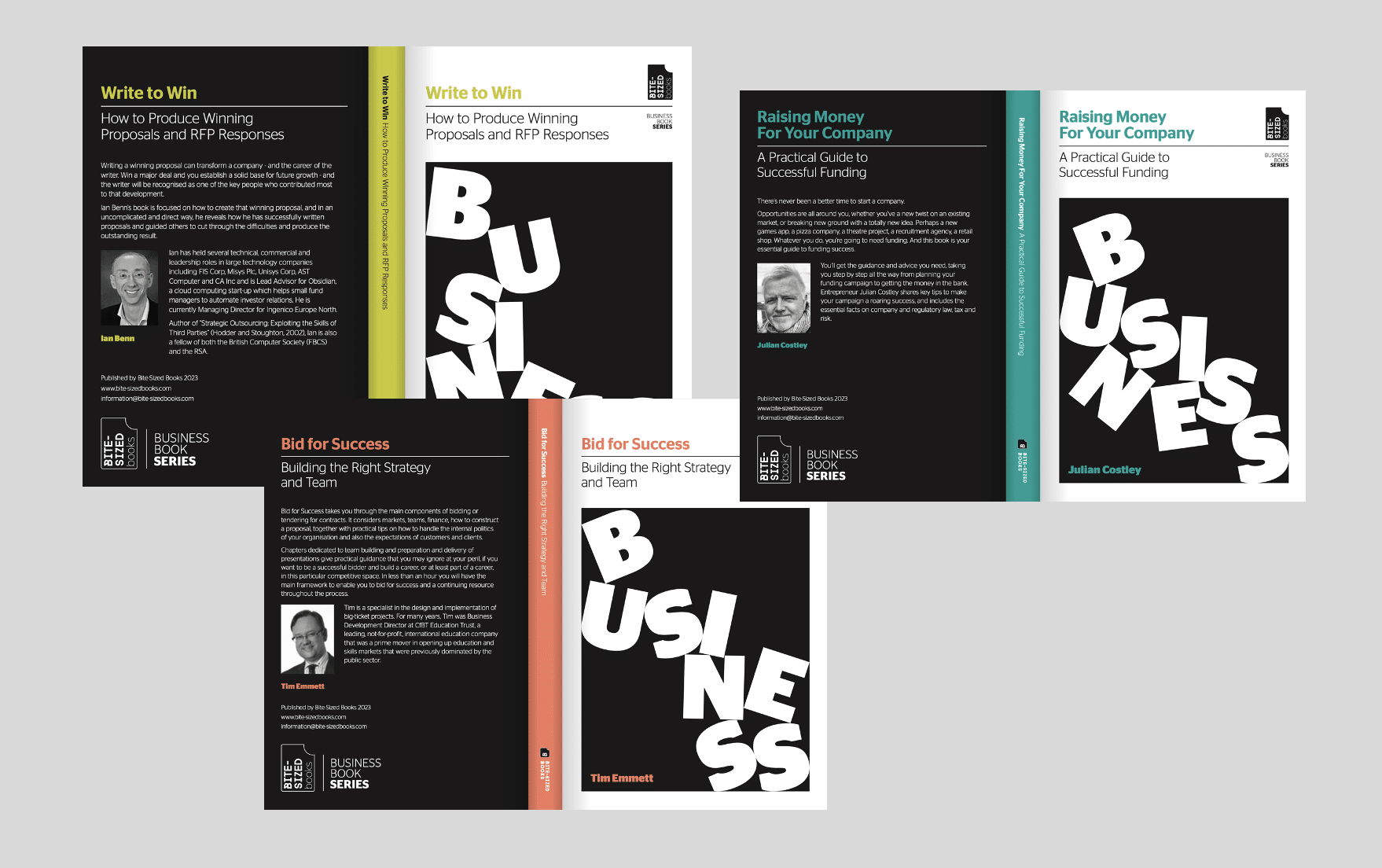 THE BUSINESS OF CLIMATE CHANGE
TOXIC NEWS? COVERING CLIMATE CHANGE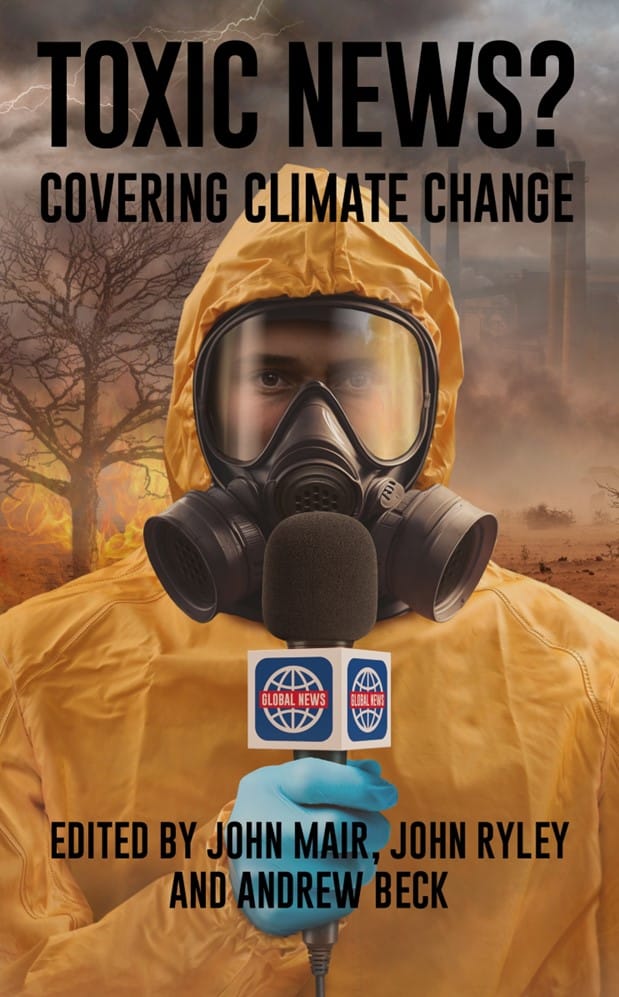 Whether as consumers or managers of organisations, we all need trusted sources of infomation and news.
 
No more so than on the subject of climate change.
 
On 1st November we'll publish one of our most important books of this year: TOXIC NEWS? COVERING CLIMATE CHANGE.  Edited by John Mair, John Ryley, and Andrew Beck, with a preface by Tom Heap, presenter, Countryfile (BBC) and Climate News with Tom Heap (Sky News).
Climate change and how to combat it will be one of the big wedge issues at the next UK General Election. There are plenty of good intentions and much enshrined in law following the various UN COP summits. How many of them will be jettisoned on the way to electoral victory? How will the British media report it?
This timely book brings together twenty-five journalists, commentators, and academics to discuss the way the UK media has covered climate change so far in a snappy, approachable way.
Contributors include Robin Aitken, Matthew D'Ancona, Maggie Brown, Phillip Collins, Paul Connew, Sir John Curtice, Prof Stephen Cushion, Dr Alan Geere, Prof Phil Hammond, Prof Chris Paterson, Prof Julian Petley, Raymond Snoddy, Christian Wolmar, and Ted Young.
EXPLORING THE GREEN ECONOMY: ISSUES, CHALLENGES AND BENEFITS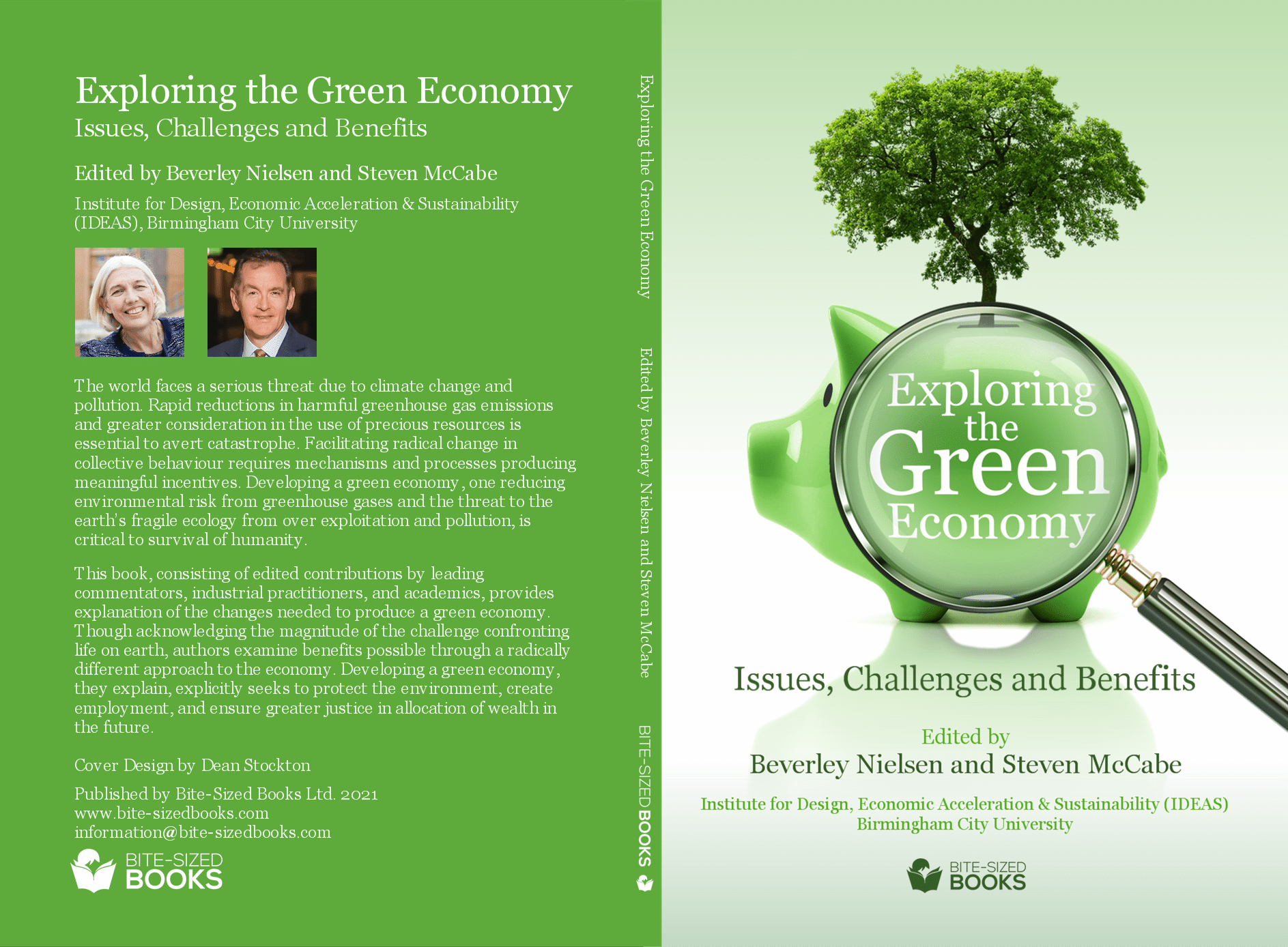 How can we meet environmental targets, crucial to delivering Net Zero, fulfil our commitments to the Paris Agreement, and in the context of COP28 Climate Conference, focus on action and on increasing the pace of our response?
The book is divided into two parts. The first, 'What are the Fundamentals of a Greener Economy?', is intended to consider how change leading to a green economy may be facilitated. Part Two of this book, 'Principles in Action' presents a number of chapters written by business people who have engaged in achieving green initiatives in their organisations.  You will be impressed as we were in what they have achieved.
BUY ON AMAZON: https://tinyurl.com/38svy864
GREEN MANUFACTURING – WHAT THIS INVOLVES AND HOW TO ACHIEVE SUCCESS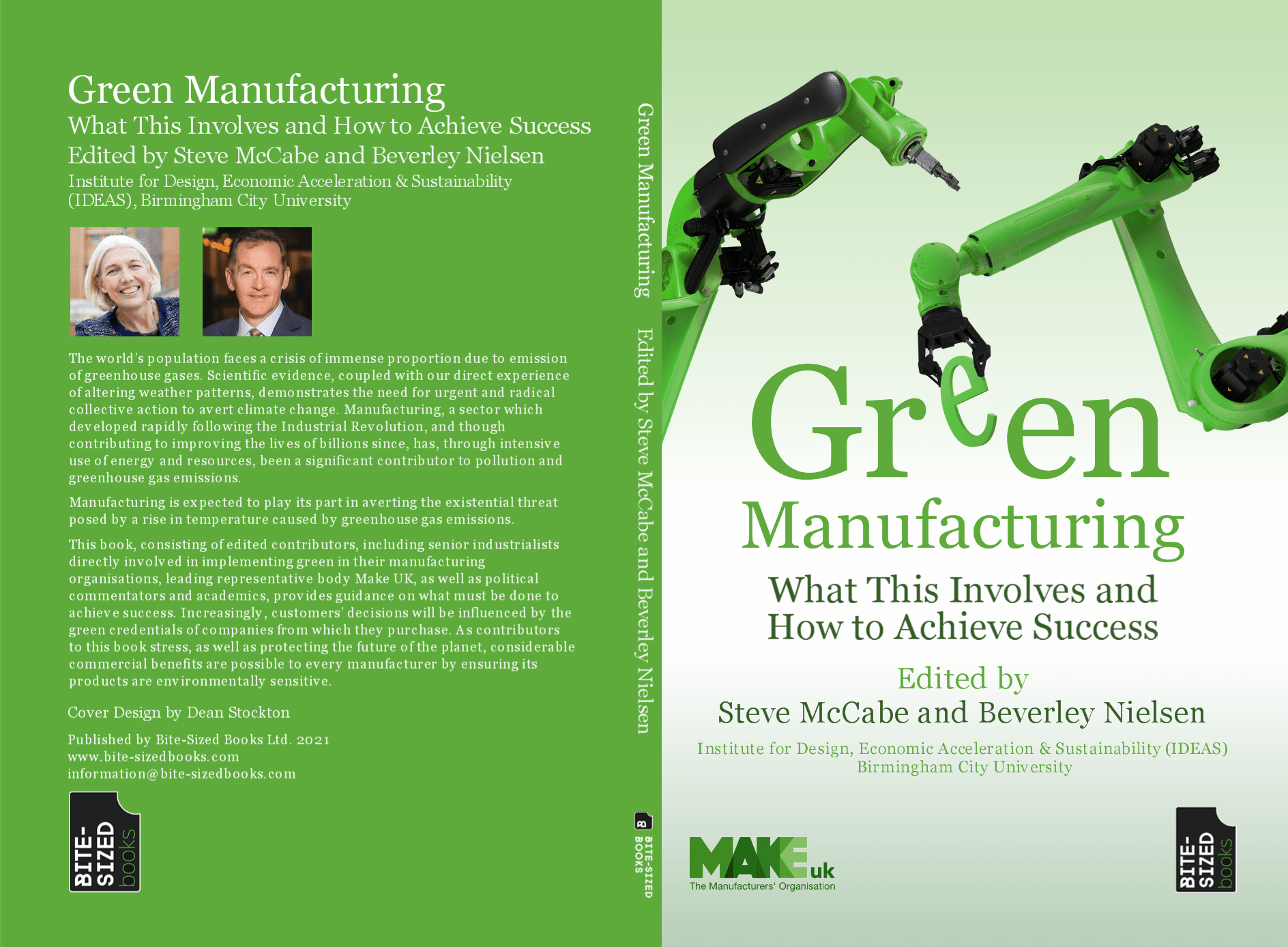 The world's population faces a crisis of immense proportion due to emission of greenhouse gases. Scientific evidence, coupled with our direct experience of altering weather patterns, demonstrates the need for urgent and radical collective action to avert climate change. Manufacturing, a sector which developed rapidly following the Industrial Revolution, and though contributing to improving the lives of billions since, has, through intensive use of energy and resources, been a significant contributor to pollution and greenhouse gas emissions. 
 
Manufacturing is expected to play its part in averting the existential threat posed by a rise in temperature caused by greenhouse gas emissions.
 
This book, consisting of edited contributions from senior industrialists directly involved in implementing green in their manufacturing organisations, leading representative body Make UK, as well as political commentators and academics, provides guidance on what must be done to achieve success. Increasingly, customers' decisions will be influenced by the green credentials of companies from which they purchase. As contributors to this book stress, as well as protecting the future of the planet, considerable commercial benefits are possible to every manufacturer by ensuring its products are environmentally sensitive.
 
BUY ON AMAZON: https://tinyurl.com/yc3me96j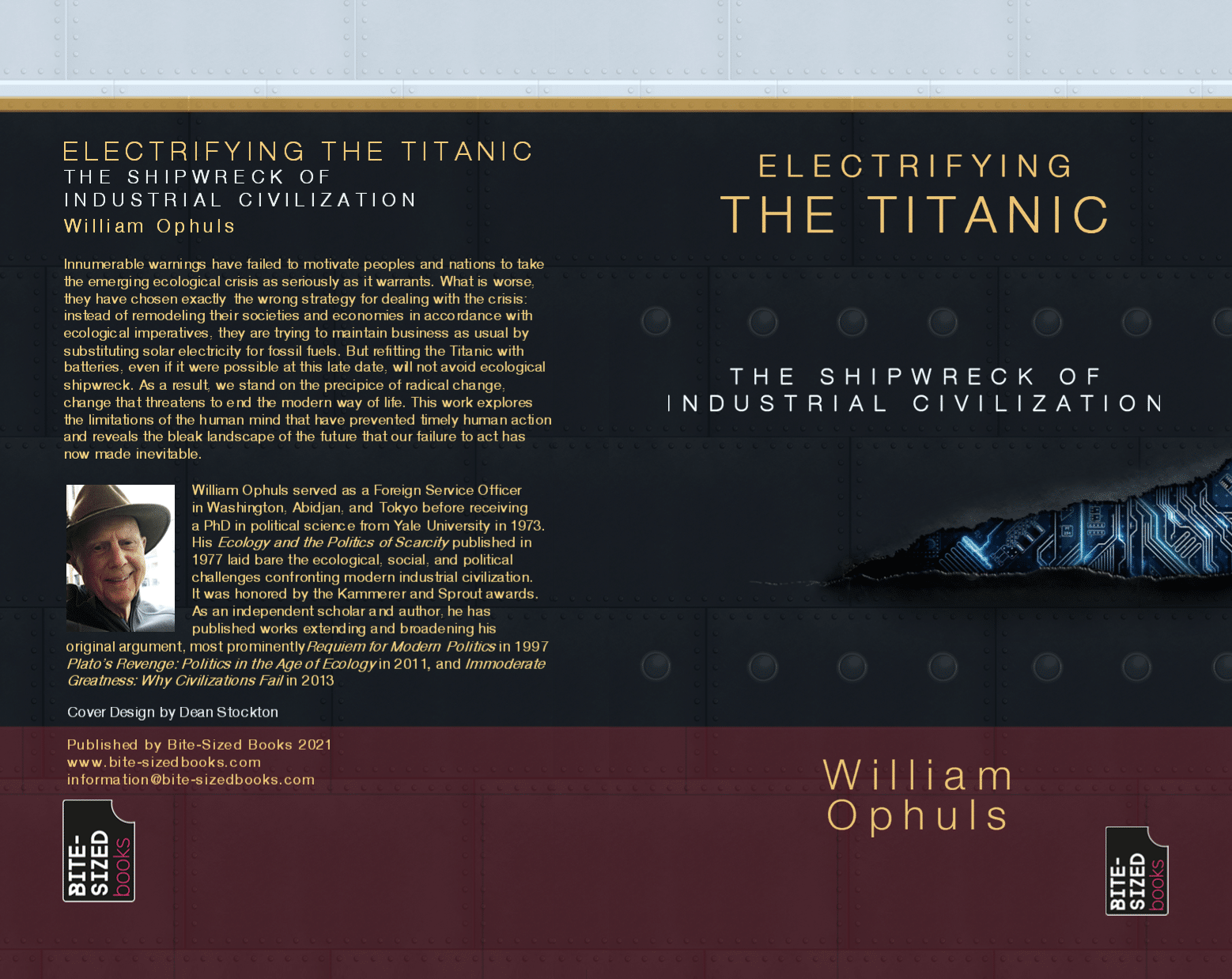 William's fascinating book reflects upon the fact that, in his own words, "we stand on the precipice of radical change, change that threatens to end both the modern way of life and the long period of relative peace since the end of World War II."
 
Willian Ophuls writes, "Innumerable warnings, growing increasingly dire as the years have rolled by, have failed to motivate peoples and nations to take the emerging ecological crisis as seriously as it warrants. What is worse, they have chosen exactly the wrong strategy for dealing with the crisis: instead of remodelling their societies and economies in accordance with ecological imperatives, they are trying to maintain business as usual by substituting solar electricity for fossil fuels. But refitting the Titanic with batteries, even if it were possible at this late date, will not avoid ecological shipwreck."
 
BUY ON AMAZON here: https://tinyurl.com/yndp43nf
BUILD BACK GREEN – THE ELECTRIFYING SHOCK OF THE GREEN REVOLUTION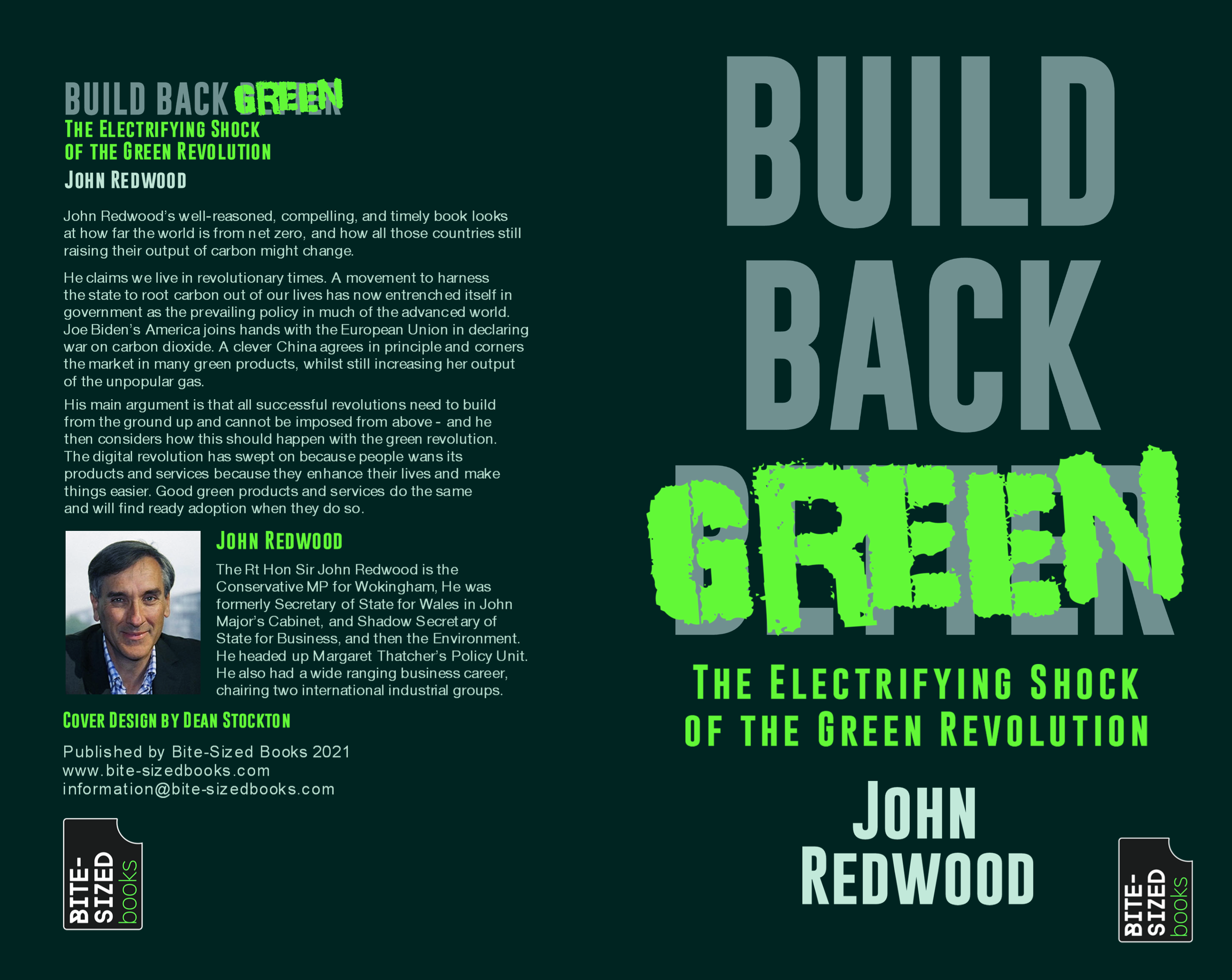 John Redwood's well-reasoned, compelling, perhaps surprising and timely book reminds us there are consequences to the upcoming green revolution. 
John claims we live in revolutionary times. A movement to harness the state to root carbon out of our lives has now entrenched itself in government as the prevailing policy. Joe Biden's America joins hands with the European Union in declaring war on carbon dioxide. A clever China agrees in principle and corners the market in many green products, whilst still increasing her output of the unpopular gas.
The protagonists strike an optimistic tone. They assure us the revolution will be carried through with a wide range of new green jobs. They hold out the promise of skilled people running windmill and battery factories, joyously powering the revolution of their dreams. They comment little on the other side, as they effectively sign the redundancy notices of all those in the oil and gas business, in drilling technology, in internal combustion engines, conventional ships, planes and vehicles, gas heating and much else. They have in mind a huge transition from the fossil fuel economy to the green electricity economy. They want us all to dump our diesel and petrol cars, replace our gas boilers, change our diet away from meat, give up foreign holidays and take to our bicycles.
How to navigate through this change is the burden of the book – and it brings a refreshing pragmatism to the subject.
BUY ON AMAZON here: https://tinyurl.com/bdzmdu2e
THE BUSINESS OF RUNNING THE NHS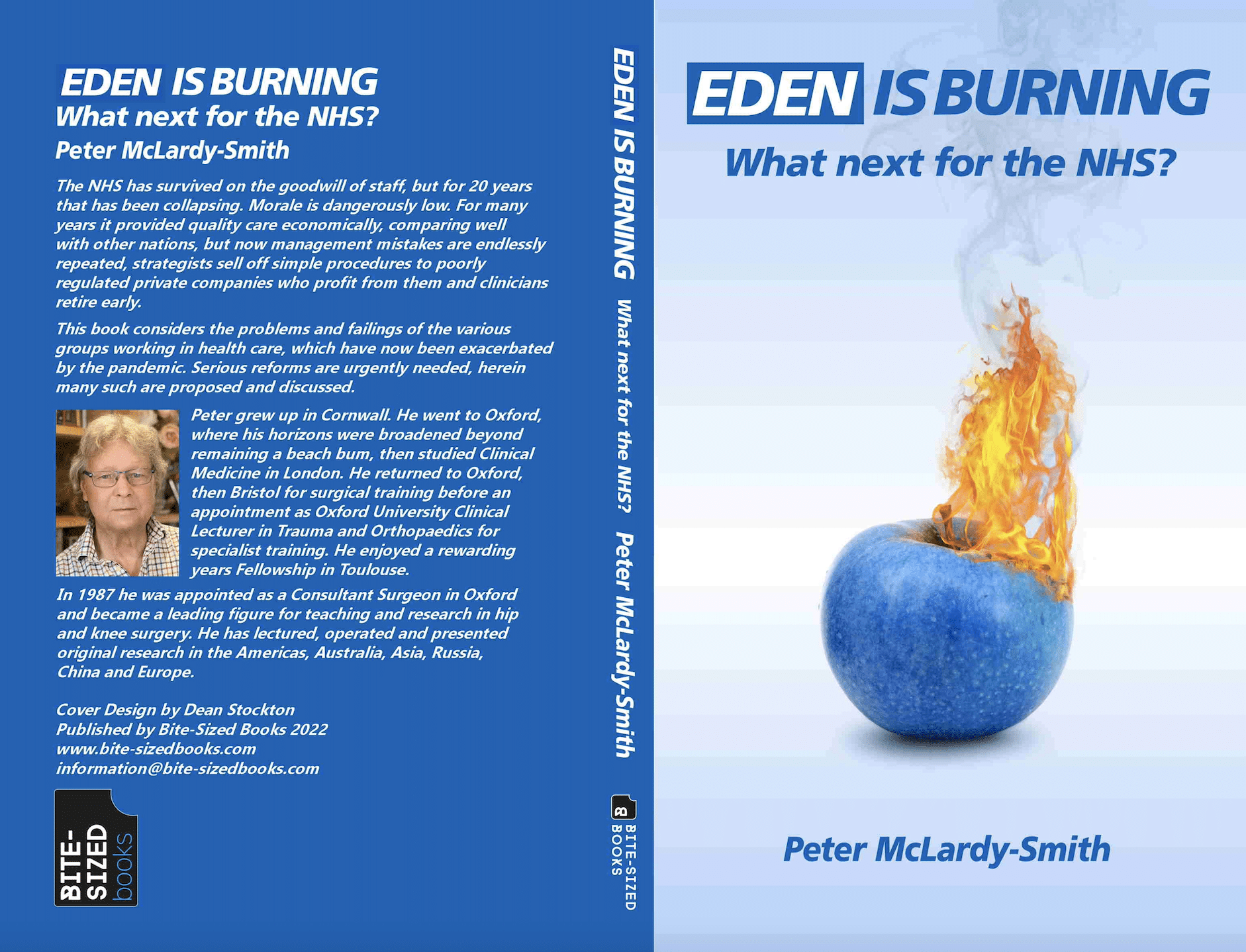 Peter McClardy-Smith, a former NHS surgeon, says the NHS has become a very unpleasant employer.
Since its foundation it has survived on goodwill and commitment from the front-line staff, but for the last 30 years that has been progressively eroded. Salaries for clinical staff have crashed in real terms, the pastoral care of the working environment has been blown away and morale is at rock bottom.
Despite this, pre-pandemic, the NHS was providing quality care at low cost, comparing well with other nations of similar social and economic background. We have fewer doctors than Romania, about the same as Poland. This is repeated with nurses and therapists.
Management of a health care delivery system is difficult, but in the NHS the same mistakes are endlessly repeated. The response of many doctors is to take early retirement, while nurses and therapists seek work in the private sector, which is an even more depressing environment, contrasting poorly with the NHS at its best.
The problems of the NHS are reviewed by considering the various groups who work for, or interact with, it. Many activities emerge which are stupid, counter-productive, venal, even dangerous. These problems pre-existed the pandemic but have been massively exacerbated by it. Serious reforms were needed, now they are urgent.
This book is about those reforms and how they might work. Politicians cannot see beyond pouring money into the black hole, but that will achieve nothing without structural change. 
Eden, the NHS, a vital part of our culture, will burn.
BUY ON AMAZON here: https://tinyurl.com/3vknd9hr
THE SERIOUS BUSINESS OF HUMOUR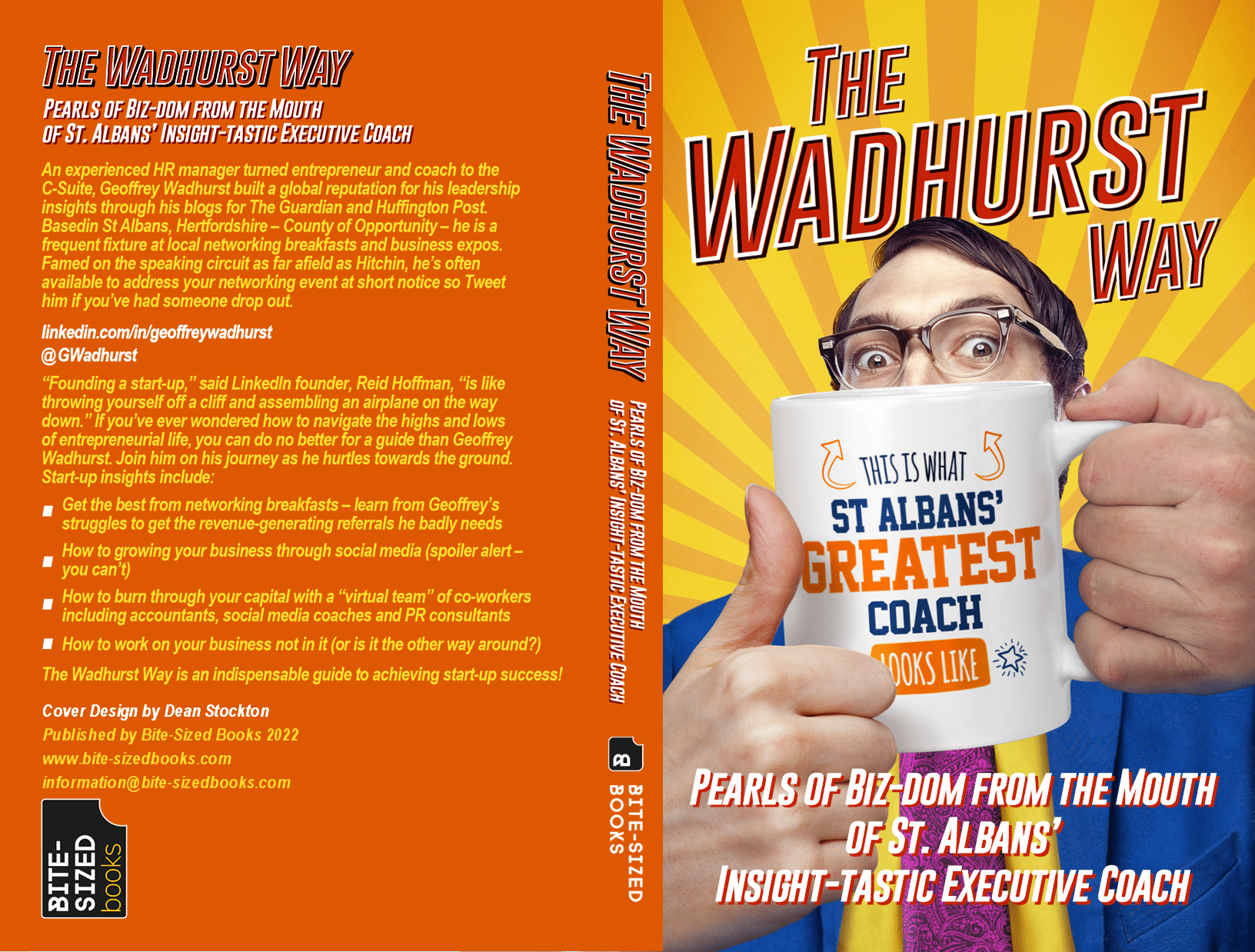 This cheeky little number is our first foray into the world of comedy books. We can't say who wrote it as that would spoil the game.
Suffice to say that Geoffrey Wadhurst is the author's fictitious creation; a hapless Walter Mitty in the mould of Alan Partridge. If you're old enough to remember 'Beachcomber' or you're a fan of Brian O'Nolan then you'll get the tone of the humour. Before the book was written Geoffrey Wadhurst was a long running 'blogger' with the Guardian and on Huffington Post.
So he has an enthusiastic fan base already and this book will surely elevate him to even giddier heights of stardom. 
 
Available on Amazon here:  
https://tinyurl.com/ytebvuvy