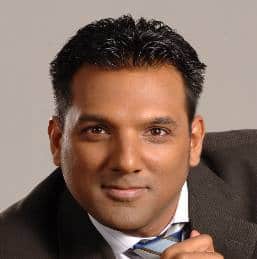 Kirk Meighoo
Academic, Author, Politician
Dr. Kirk Meighoo is a political analyst, media commentator, author and former Independent Senator in Trinidad and Tobago, also involved in several private sector initiatives. He has been ranked in the Top 0.5% of academics on the website Academia.edu.
He has the unique honour of being the only West Indian to have launched a book in the UK House of Commons, Politics in a "Half-Made Society": Trinidad and Tobago, 1925-2001. He also co-authored Democracy and Constitution Reform in Trinidad and Tobago with Court of Appeal Justice Peter Jamadar.
Dr. Meighoo sits on the Advisory Board of the CARICOM Integrationist and is Assistant Editor of the Caribbean Construction Digest. He was also the Intellectual and Academic Advisor to the UWI – CARICOM Project. He was a close collaborator with the late Lloyd Best, and has personally worked with Prime Ministers Keith Rowley, Kamla Persad-Bissessar, Patrick Manning, Basdeo Panday and ANR Robinson in various endeavours.
He served as an Independent Senator and also in various governmental capacities, including Vice-Chair of the Constitutional Reform sub-committee of the Vision 2020 process, and on the President's Committee for National Self-Discovery.
He formerly lectured at the University of the West Indies in Trinidad and  Jamaica, and was a founder of the University of Trinidad and Tobago.  He was Wilberforce Scholar at the University of Hull, UK, working under the late Dr. Eric Williams's last scholarly collaborator, Professor Paul Sutton.  His scholarly articles on Trinidad and Tobago politics and Caribbean development have been published in The Round Table: The Commonwealth Journal of International Affairs, Commonwealth and Comparative Politics, Keesing's Annual Register (First edited in 1758 by Edmund Burke), The Commonwealth Lawyer, Jane's Sentinel, among others.
He has appeared in extensively on radio, television and newspapers in Trinidad and Tobago, Jamaica, on the BBC, in the New York Times, Mauritius and Singapore, in addition to addressing various United Nations and Commonwealth bodies.
In addition to being a founder of the British-Caribbean Chamber of Commerce and consulting for Fortune 500 Companies including BP Trinidad and Tobago, JP Morgan, among others, Dr. Meighoo has been involved in several innovative start-up companies in the fields of environmentally harmonious development, digital technology, security, and media.
SHARE YOUR EMAIL ADDRESS AND STAY UPDATED WITH LATEST RELEASES AND NEWS