Who are we?
Bite-Sized Books is an independent publisher specialising in short-form books written by experts in multiple disciplines. In an age of uncertainty, our priority is getting useful books out there, and getting them read by more and more people. Our authors come from all walks of life – what links them? The ability to communicate their own personal insights and experience to produce focused and instructive books. So far, we've published almost 100 books covering business, politics, lifestyle, and fiction for both children and adults.
Why choose us rather than self-publish?
We provide an alternative service to the time-consuming process of self-publishing, and the daunting bureaucracy of big publishing houses.
We make sure that throughout the publishing process you retain total creative control. This is your work and you know best what you are trying to say. However, we are here to provide assistance in the creative process where needed – whether this is through honing a concept, or putting you in touch with contributors who can add to the book's message.
We operate with low upfront costs, and make your returns larger to compensate. We do charge a small fee at the outset to cover the costs of our editing, graphic design, and marketing, but in turn we take no cut of any royalties until your outlay has been returned – this is typically recouped after ~150 book sales. You then retain 50% of net proceeds after printing, which usually equates to around 25% overall.
Self-publishing isn't as simple as just writing; it's an entrepreneurial campaign which encompasses product development, production, marketing, and financial accounting. Working with Bite-Sized Books means that we shoulder all responsibilities outside of writing, allowing you to focus on the most important aspect – your book.
In turn, we offer:

A helping hand – an allocated account manager to support you all the way

Production guidance – formatting, price-points, IP, and territorial distribution

Editorial guidance – proof-reading, and style/structural feedback

Cover design – using our team of experienced graphic designers and illustrators

Mechanicals – Typesetting, layout and uploading to Amazon

Social media presence – you'll be featured across all of our channels

Launch events – in person (hopefully) soon, and until then in livestreams on our YouTube channel
Contacts – both for publicity, and to boost your professional profile

Administration – author copy and review copies distribution, global sales & royalty tracking and payments
As a small, independent team, we also have the benefit of passion and know-how without bureaucracy. We work to your timescales, meaning that once your work is complete, you'll see it in print almost at once. And then our pre-prepared marketing campaign launches.
Interested in finding out more?
Please email us at team@bite-sizedbooks.com and we'll talk you through the process.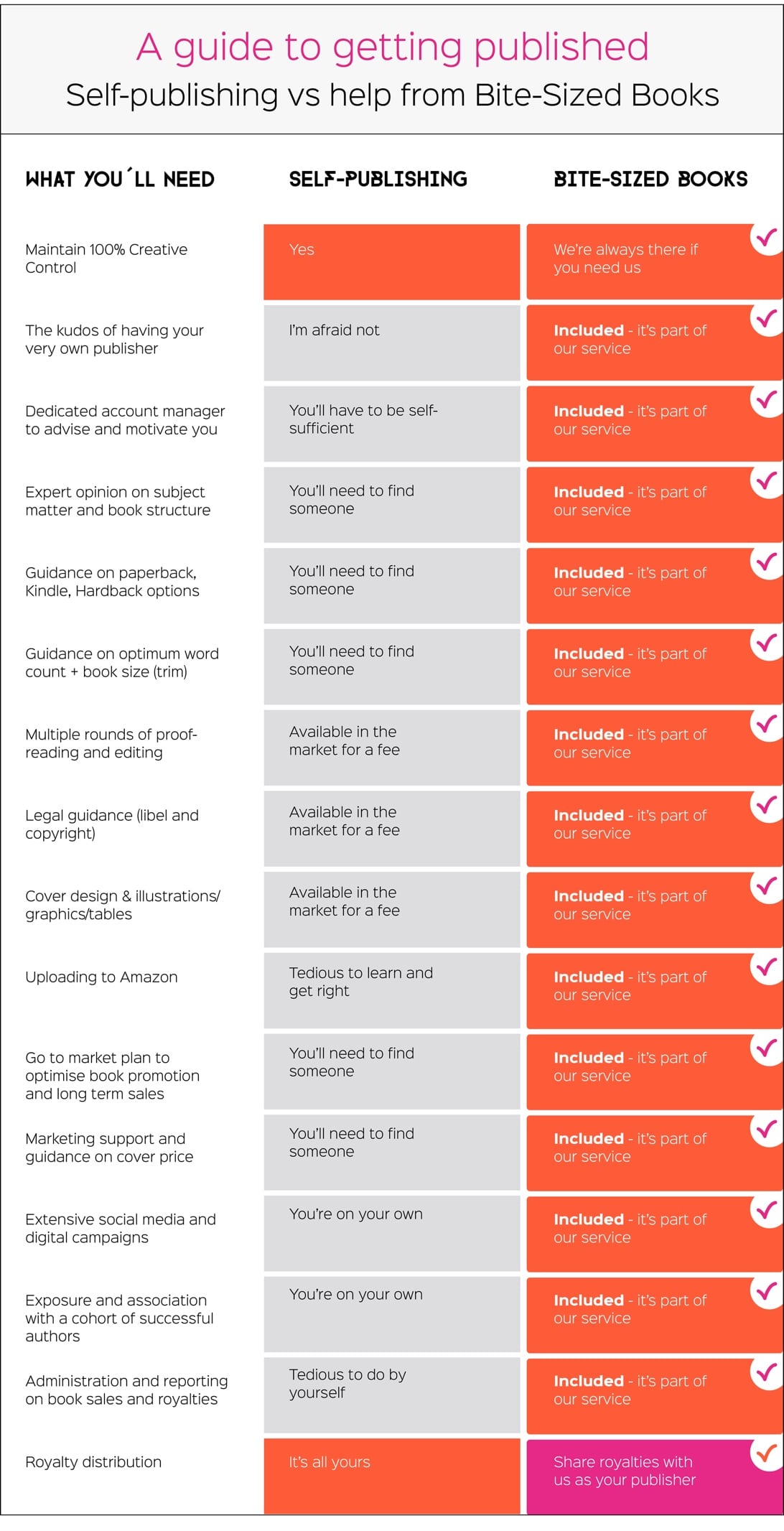 SHARE YOUR EMAIL ADDRESS AND STAY UPDATED WITH LATEST RELEASES AND NEWS